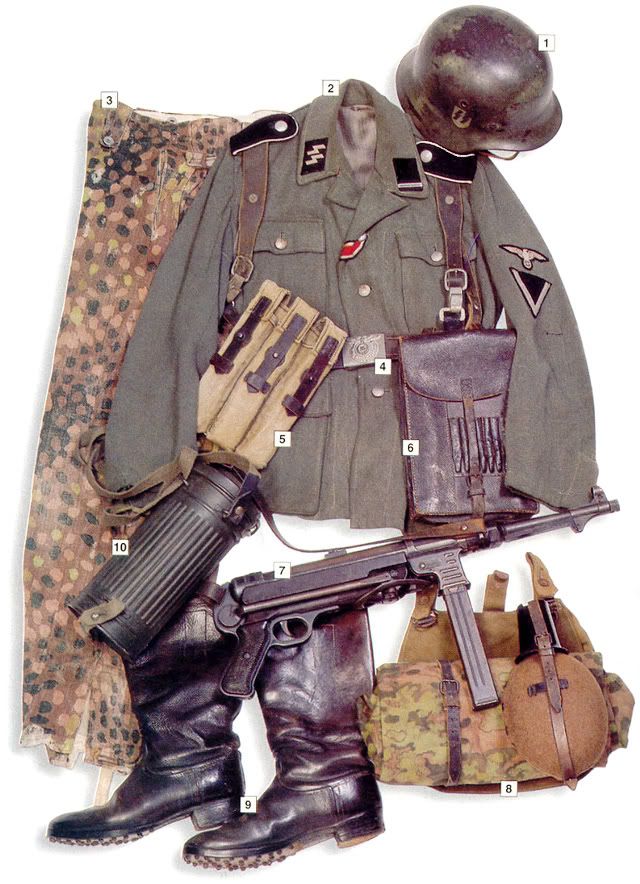 Waffen SS Sturmmann (Corporal), Normandy 1944
01 - M-40 helmet with SS badges
02 - M-43 SS Feldbluse, Sturmmann's insignia on the collar tabs and left sleeve, Iron Cross 2nd Class ribbon on the button
03 - trousers from the Drillichtanzug 43 uniform, in "Tupfenmuster" camo
04 - SS main belt with webbing
05 - Patronentasche für MP-Magazine, ammo pouches for MP-38/40
06 - map pouch
07 - 9 mm MP-40 SMG
08 - breadbag, canteen, Zeltbahn tent cloth
09 - boots
10 - gas mask canister
Lviv Offensive Operation (13 July 1944 – 27 July 1944)
Stanislav Offensive Operation (13 July 1944 – 27 July 1944)
Sandomierz Offensive Operation (28 July 1944 – 29 August 1944)
The creation of foreign SS units had been carried out previously in the name of fighting against communism; with French, Dutch, Latvian,Estonian, Croatian, and Belarusian units, among others, had been created. The creation of a Ukrainian SS division was perceived by many in Ukraine as a step towards the attainment of Ukrainian independence and attracted many volunteers.
The 3000 survivors of the Galician Division were used as a nucleus for the rebuilt 14th SS division. Those that were captured were either executed or sent to slave-labour camps. Approximately 2,000 + are thought to have joined up with the UIA
The Germans rebuilt the division over several months using reserve units. From the end of September 1944, the division was used against the Slovak National Uprising.