front rank
Monmouth Rebellion,The Revolt of the West or The West Country rebellion of 1685, was an attempt to overthrow James II, who had become King of England, King of Scots and King of Ireland at the death of his elder brother Charles II on 6 February 1685. James II (above dicelikedave blog)
was a Roman Catholic, and some Protestants under his rule opposed his kingship. James Scott, 1st Duke of Monmouth, an illegitimate
son of Charles II, claimed to be rightful heir to the throne and attempted to displace James II.
The rebellion ended with the defeat of Monmouth's forces at the Battle of Sedgemoor on 6 July 1685. Monmouth
was executed for treason on 15 July, and many of his supporters were executed or transported in the "Bloody Assizes" of Judge Jeffreys.
Jeffreys was born at the family estate of Acton Hall,
near Wrexham, in Denbighshire,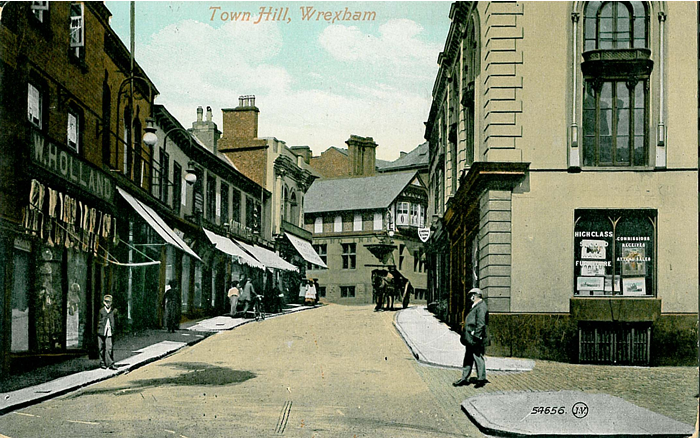 Wales, the sixth son of John and Margaret Jeffreys. His grandfather, John Jeffreys (died 1622) had been Chief Justice of the Anglesey circuit of the Great Sessions. His father, also John Jeffreys (1608–1691) was a Royalist during the English Civil War, but was reconciled to the Commonwealth and served as High Sheriff of Denbighshire in 1655.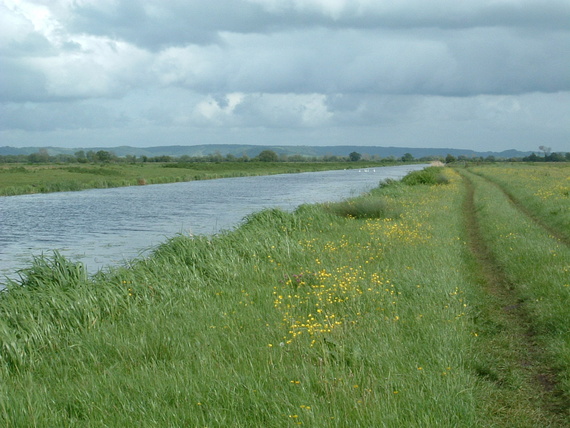 His brothers were people of note. Thomas, later Sir Thomas (knighted in 1686) was English Consul in Spain and a Knight of Alcántara. William was vicar of Holt, Wales
from 1668–1675. His younger brother, James, made a good ecclesiastical career, becoming Vice-Dean of Canterbury in 1685.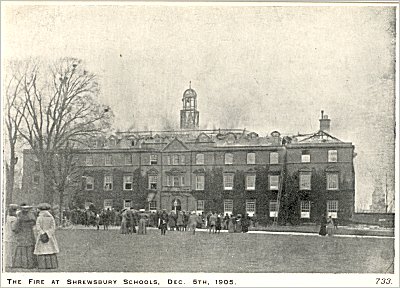 George was educated at Shrewsbury School from 1652–1659, his grandfather's old school, where he was
periodically tested by Philip Henry,
a friend of his mother. He attended St Paul's School (the school today)
, London from 1659–1661 and Westminster School, London from 1661–1662.
He became an undergraduate at Trinity College Cambridge University in 1662,
leaving after one year without graduating, and entering the Inner Temple for law in 1663.In 1667, he married Sarah Neesham or Needham, by whom he had seven children before her death in 1678. She was the daughter of the impoverished vicar of Stoke d'Abernon.
There is a family legend that Jeffreys sought to marry a daughter of a rich City merchant and had a secret correspondence with her, through Sarah, her companion. When the merchant discovered the plot he refused his home to Sarah and George did a noble act marrying the poor orphan.They married in the church of All Hallows-by-the-Tower in the City of London.
He married secondly, Anne, widow of Sir John Jones of Fonmon Castle, Glamorgan.
Being only 29 at the time of her second marriage, she was described as a 'brisk young widow' and there were some rumours about her. She was the daughter of Sir Thomas Bludworth, who was the Lord Mayor of the City of London during the Great Plague of 1665 and the Great Fire of 1666 .This Lord Mayor of London( from October 1665 to October 1666. )great inaction during the early stages of the Great Fire of London was widely criticized as one of the causes for the great extent of the damage to the city.
.He embarked on a legal career in 1668, becoming a Common Serjeant of London in 1671. He was aiming for the post of Recorder, but was passed over for this in 1676 in favour of William Dolben. He turned instead to the Court and became Solicitor General to the future king James II (then the Duke of York), the younger brother of Charles II. Despite his Protestant upbringing, he found favour under the Roman Catholic Duke.
Jeffreys was knighted in 1677, became Recorder of London in 1678 when Dolben resigned, and by 1680 had become Chief Justice of Chesterand Counsel for the Crown at Ludlow
and Justice of the Peace for Flintshire. Charles II created him a baronet in 1681, and two years later, he was Chief Justice of the King's Bench and a member of the Privy Council.
Jeffreys became Lord Chief Justice in 1683 and presided over the trial of Algernon Sidney(above), who had been implicated in the Rye House Plot.
The Rye House Plot of 1683 was a plan to assassinate King Charles II of England and his brother (and heir to the throne) James, Duke of York. Historians vary in their assessment of the degree to which details of the conspiracy were finalized. Whatever the state of the assassination plot, plans to mount a rebellion against the Stuart monarchy were being entertained by opposition leaders in Great Britain, and the government cracked down hard on those in a series of state trials, accompanied with repressive measures and widespread searches for arms. The Plot presaged the rebellions of 1685. Sidney was convicted and executed. James II, following his accession to the throne, named Jeffreys as Lord Chancellor in 1685, and elevated him to the peerage as Baron Jeffreys of Wem.
Jeffreys' historical notoriety comes from his actions in 1685, after Monmouth's Rebellion. Jeffreys was sent to the West Country in the autumn of 1685 to conduct the trials of captured rebels. The Centre of the trials was based at Taunton. At these trials, later known as the "Bloody Assizes", Jeffreys issued harsh sentences to nearly all defendants. About 300 were executed, and between 800 and 900 were transported to the West Indies. On 18/19 September alone, he issued 144 death sentences. For his severity, he was nicknamed "the hanging judge"
.
On 30 June 1688, a group of
seven Protestant nobles
invited the Prince of Orange to come to England with an army, all were traitors tothe crown and this is rarely mentioned.
By (Monmouth commanding troops against the dutch above)September, it had become clear that William sought to invade.
Believing that his own army would be adequate, James refused the assistance of Louis XIV, fearing that the English would oppose French intervention.
When William arrived on 5 November 1688, many Protestant officers, including
Churchill
,
defected and joined William
, as did James's own daughter, Princess
Anne
.
James lost his nerve and declined to attack the invading army, despite his army's numerical superiority.
On 11 December, James tried to flee to France, allegedly first throwing the
Great Seal of the Realm
into the
River Thames
He was captured in
Kent
; later, he was released and placed under Dutch protective guard. Having no desire to make James a martyr, the Prince of Orange let him escape on 23 December.
James was received by his cousin and ally, Louis XIV, who offered him a palace and a pension.
Though Jeffreys' harshness alienated many Englishmen, it pleased King James, who considered making him Viscount Wrexham and Earl of Flint. James refrained only because Jeffreys remained a Protestant.During the Glorious Revolution, when James II fled the country,King James's policies of religious tolerance after 1685 met with increasing opposition by members of leading political circles, who were troubled by the king's catholicism and his close ties with France. The crisis facing the king came to a head in 1688, with the birth of the King's son, James Francis Edward Stuart, on 10 June (Julian calendar). This changed the existing line of succession by displacing the heir presumptive, his daughter Mary, a protestant and the wife of William of Orange, with young James as heir apparent. The establishment of a Roman Catholic dynasty in the kingdoms was now likely. Some of the most influential leaders of the Tories united with members of the opposition Whigs and set out to resolve the crisis by inviting William of Orange to England, which the stadtholder, who feared an Anglo-French alliance, had indicated as a condition for a military intervention.
Jeffreys stayed in London until the last moment, being the only high legal authority in James's abandoned kingdom to perform political duties. When William III's troops approached London, Jeffreys tried to flee and follow the King abroad. He was captured in a public house in Wapping, now named The Town of Ramsgate.
Reputedly he was disguised as a sailor, and was recognized by a surviving judicial victim. Jeffreys was in terror of the public when dragged to the Lord Mayor and then to prison "for his own safety". He begged his captors for protection from the mob.
He died of kidney disease (probably pyelonephritis) while in custody in the Tower of London on 18 April 1689. He was originally buried in theChapel Royal of Saint Peter ad Vincula in the Tower.
In 1692 his body was moved to St Mary Aldermanbury.
In his London Journal, Leigh Hunt gives the following account of Judge Jeffreys' death and burial:
Jeffreys was taken on the twelfth of September, 1688. He was first interred privately in the Tower; but three years afterwards, when his memory was something blown over, his friends obtained permission, by a warrant of the queen's dated September 1692, to take his remains under their own care, and he was accordingly reinterred in a vault under the communion table of St. Mary, Aldermanbury, 2nd Nov. 1694. In 1810, during certain repairs, the coffin was uncovered for a time, and the public had a sight of the box containing the mortal remains of the feared and hated magistrate.
To take up arms against the crown was the capital offense of treason and it carried the death sentence in Britain until 1998.
In The Blitz of 1941, during the Second World War, St Mary Aldermanbury was gutted by a German air raid and all traces of Jeffreys's tomb were destroyed. The remains of the church were later re-erected in Fulton, Missouri, in the United States
Jeffreys's only son, by Sarah Needham, John (or Jacky as he was called at home) succeeded to his father's peerage. He married Charlotte, a daughter of Philip Herbert, 7th Earl of Pembroke,
and later Henrietta de Kérouaille, sister of the Duchess of Portsmouth,
a mistress of Charles II and a supporter of Jeffreys in the early stages of his career. John and Charlotte Jeffreys had one daughter, named Henriette-Louise after the two Kerouaille sisters, but no son, so that the male line of George Jeffreys became extinct. There are descendants from the daughters.
Jeffreys' reputation today is mixed. His legal ability was undoubtedly high, and he was definitely good in all cases that required him to rule on questions of law, but not of loyalty. Some say he was a personally vengeful man. He had bitter personal and professional rivalries with Sir William Williams, whom he tried to ruin with a fine for publishing a libel. His political animus was displayed during his legal career. He suffered a painful kidney disease that may well have affected his unbridled temper and added to this reputation.
In The Revolution of 1688, the historian J. R. Jones refers to Jeffreys as "an alcoholic". U.S. Supreme Court Justice Antonin Scalia, in the majority opinion in Crawford v. Washington, 541 U.S. 36, 67 (2004), wrote that "[The Framers of the Constitution] knew that judges, like other government officers, could not always be trusted to safeguard the rights of the people; the likes of the dread Lord Jeffreys were not yet too distant a memory."
However, G. W. Keeton in Lord Chancellor Jeffreys and the Stuart Cause (1965) claimed the historical Jeffreys "to be a different person from the Jeffreys of legend".One session of the Bloody Assizes was held in Dorchester on 5 September, in the Oak Room (now a Tea Room)
of the Antelope Hotel. Jeffreys lodged nearby at 6 High West Street, and is said to have used a secret passage from his lodgings to the Oak Room.
Prezzo plc now operates the "Judge Jeffreys" restaurant at 6 High West Street.
After his fall from power, a portrait of Jeffreys was taken from Gray's Inn and left in the cellar of Acton Hall (the family home). When Acton Hall was demolished in the 1950s, that painting and one of his brother Thomas were acquired by Simon Yorke, Squire of Erddig (Erthig) and hung in the entrance hall of Erddig Hall.
They still can be seen there. Both portraits are reproduced in Keeton's Lord Chancellor Jeffreys and the Stuart Cause.
Monmouth was an illegitimate son of Charles II. There had been rumours that Charles had married Monmouth's mother,

Lucy Walter

,

above

but no evidence was forthcoming,

and Charles always said that he only had one wife,

Catherine of Braganza

.
That marriage produced no surviving children.Monmouth below
Monmouth was a Protestant. He had been appointed Commander-in-Chief of the English Army by his father in 1672 and Captain-General in 1678, enjoying some successes in the Netherlands in the Third Anglo-Dutch War.
An attempt was made in 1681 to pass the Exclusion Bill, an Act of Parliament to exclude James Stuart, Charles II's brother, from the succession and substitute Monmouth, but Charles outmanoeuvred his opponents and dissolved Parliament for the final time. After the Rye House Plot to assassinate both Charles and James, Monmouth exiled himself to Holland, and gathered supporters in The Hague
So long as Charles II remained on the throne, Monmouth was content to live a life of pleasure in Holland, while still hoping to accede peaceably to the throne. The accession of James II put an end to these hopes. Prince William of Orange,
although also a Protestant, was bound to James by treaties and could not accommodate a rival claimant.In May 1685, Monmouth set sail for South West England, a strongly Protestant region, with three small ships, four light field guns and 1500 muskets
He landed with 82 supporters, including Lord Grey of Warke,
and gathered about 300 men at Lyme Regis in Dorset on
11 June. King James was soon warned of Monmouth's arrival; two customs officers from Lyme arrived in London on 13 June having ridden 200 miles (322 km) post haste.
Other important members of the rebellion were: above front line
- Robert Ferguson. A fanatical Scottish Presbyterian Minister, he was also known as "the plotter" It was Ferguson who drew up Monmouth's proclamation, and he who was most in favour of Monmouth being crowned King.
- Thomas Hayward Dare. Dare was a goldsmith from Taunton and a Whig politician, a man of considerable wealth and influence who had been jailed during a political campaign calling for a new parliament. He was also fined the huge sum of £5,000 for uttering 'seditious' words. After his release from gaol, he fled to Holland and became the paymaster general to the Rebellion. above front line rebels superb
- The Duke of Argyll. Archibald Campbell, 9th Earl of Argyll was to lead the Scottish revolt and had already been involved in one unsuccessful attempt, known as the Rye House Plot of 1683.
Instead of marching on London, Monmouth marched north towards Somerset, and on 14 June clashed with the Dorset Militia at Bridport.
Many of the militiamen deserted and joined Monmouth's army, before he fought another skirmish on the 15th at Axminster. The recruits joined his disorganised force, which was now around 6,000, mostly nonconformist,artisans and farmer workers armed with farm tools (such as pitchforks):one famous supporter was the young Daniel Defoe. front rank above
Monmouth declared himself King and was crowned in Chard
and was the subject of more coronations in Taunton on 20 June 1685, when Taunton Corporation was made to witness the event at swords point outside the White Hart Inn.
This was done to encourage the support of the country gentry.He then continued north, via Shepton Mallet
June). Meanwhile, theRoyal Navy captured Monmouth's ships, cutting off any hope of an escape back to the continent should he be defeated.
Monmouth was counting on a rebellion in Scotland, led by Archibald Campbell, 9th Earl of Argyll,
weakening the King's support and army. Argyll landed at Campbeltown
on 20 May and spent some days raising a small army of supporters, but was unable to hold them together while marching through the lowlands towards Glasgow. Argyll and his few remaining companions were captured at Inchinnan on 19 June,
and he was taken to Edinburgh, where he was executed on 30 June. Expected rebellions in Cheshire and East Anglia also failed to materialise.On 24 June, Monmouth's army encamped at Pensford,
and the next day arrived in Keynsham,
intending to attack the city of Bristol (at the time was the second largest and second most important city after London). However, he found the city had been occupied by Henry Somerset, 1st Duke of Beaufort,
and the men of the Gloucester Militia. There were inconclusive skirmishes with a force of Life Guards commanded by Louis de Duras, 2nd Earl of Feversham
(an elderly nephew of Turenne, who had spent some time in English service and later became a Knight of the Garter). Monmouth then moved towards Bath, which had also been occupied by Royalist troops, He camped in Philips Norton (now Norton St Philip),
where his forces were attacked on the 27th June by Feversham's forces. Monmouth then marched overnight to Frome, heading forWarminster.
The morale of Monmouth's forces started to collapse as news of the setback in Scotland arrived on 28 June, while the makeshift army was camped in Frome.
The rebels got as far as Trowbridge,
but royalist forces cut off the route and Monmouth turned back towards Somerset through Shepton Mallet,
arriving in Wells on 1 July.
The soldiers damaged the West front of Wells Cathedral, tearing lead from the roof to make bullets, breaking the windows, smashing the organ and the furnishings, and for a time stabling their horses in the nave.
Eventually Monmouth was pushed back to the Somerset Levels,
where Alfred the Great had found refuge in his conflicts with the Vikings. Becoming hemmed in at Bridgwater on 3 July, he ordered his troops to fortify the town.
Monmouth was finally defeated by Feversham (with Lord Churchill, later Duke of Marlborough,
his second in command) on 6 July at the Battle of Sedgemoor. Monmouth had risked a night attack, but surprise was lost when a musket was discharged. His untrained supporters were quickly defeated by the professionals, and hundreds were cut down by cannon- and musket-fire.
The battle of Sedgemoor is often referred to as the last battle fought on English soil, but this depends on the (

The Leagueof Augsburg)

(
definition of battle, for which there are different interpretations. Other contenders for the title of last English battle include:
the Battle of Preston in Lancashire, which was fought on 14 November 1715, during the First Jacobite Rebellion; and the Second Jacobite Rebellion's minor engagement at Clifton Moor
, near Penrith in Cumbria, on 18 December 1745. The Battle of Culloden fought on Drumossie Moor to the north east of Invernesson 16 April 1746
was the last battle fought on British soil.