The Battle of Marston Moor was fought on 2 July 1644, during the First English Civil War of 1642–1646.
The combined forces of the Scottish Covenanters under the Earl of Leven
and the English Parliamentarians under Lord Fairfax
The Covenanters were a Scottish Presbyterian movement that played an important part in the history of Scotland, and to a lesser extent that of England and Ireland,
house by tmt
during the 17th century. Presbyterian denominations tracing their history to the Covenanters and often incorporating the name continue the ideas and traditions in Scotland and internationally.
marston moor shot from the brilliant ecw blog Ubique
They derive their name from the Scots term covenant for a band or legal document. There were two important covenants in Scottish history, the National Covenant and the Solemn League and Covenant
.
and the Earl of Manchester defeated the Royalists commanded by Prince Rupert
of the Rhine and the Marquess of Newcastle
.
During the summer of 1644, the Covenanters and Parliamentarians had been besieging York, which was defended by the Marquess of Newcastle.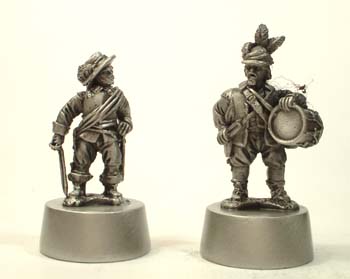 Prince Rupert had gathered an army which marched through the northwest of England to relieve the city, gathering fresh recruits on
the way. The convergence of these forces made the ensuing battle the largest of the Civil Wars.
On 1 July, Rupert outmanoeuvred the Scots and Parliamentarians to relieve the city. The next day, he sought battle with them even though he was outnumbered. He was dissuaded from attacking immediately and during
the day both sides gathered their full strength on Marston Moor, an expanse of wild meadow west of York
. Towards evening, the Scots and Parliamentarians themselves launched a surprise attack. After a confused fight lasting two hours, Parliamentarian cavalry under Oliver Cromwell routed the Royalist cavalry from the field and annihilated the remaining Royalist infantry.
The black bull at otley drank dry the night before the battle by roundheads
After their defeat the Royalists effectively abandoned the north of England. They lost much of the manpower from the Northern Counties of England which were strongly Royalist in sympathy, and access to the continent of Europe through the ports on the North Sea coast.
Although they partially retrieved their fortunes with victories later in the year in the south of England, the loss of the North was to prove a fatal handicap the next year, when they tried unsuccessfully to link up with the Scottish Royalists under Montrose.