1

After the

Battle of Edgehill

(23 October) King Charles captured

Banbury
(27 October) and was greeted by cheering crowds as he arrived in

Oxford
on 29 October. Charles' nephew and cavalry commander,
Prince Rupert of the Rhine
,
swept down the

Thames Valley

, capturing

Abingdon
,
Aylesbury
and
Maidenhead
, from where he attempted to capture
Windsor
, although he failed in that attempt because of Parliamentary strength there. After this, many officers wanted to open peace negotiations, contrary to Rupert's desire to carry on to
London
, but the king agreed with the officers and so the
Earl of Essex
managed to overtake them and reach London with his Parliamentary army by 8 November.
2
Devereux, 3rd Earl of Essex

(11 January 1591 – 14 September 1646) was an English

Parliamentarian

and

soldier

during the first half of the seventeenth century. With the start of the

English Civil War

in 1642 he became the first Captain-General and Chief Commander of the

Parliamentarian army

, also known as the

Roundheads

. However, he was unable and unwilling to score a decisive blow against the

Royalist

army of

King Charles I

. He was eventually overshadowed by the ascendancy of

Oliver Cromwell

and resigned his commission in 1646

Robert Devereux was the son and heir of

Robert Devereux, 2nd Earl of Essex

, the courtier and soldier from the later reign of

Queen Elizabeth I

. His mother was

Frances Walsingham

(1569–1631), the only daughter of Sir

Francis Walsingham
, Elizabeth's spymaster.
The 2nd Earl led an unsuccessful rebellion against Elizabeth in 1601. He was subsequently executed for treason and the family lost its title. However King James I
chose to restore it after he became

King of England

. In 1604, Robert Devereux became the 3rd Earl of Essex. The young earl became a close friend of Henry Stuart, Prince of Wales, who was three years Essex's junior.
Essex was married at age 13 to 14-year old Frances Howard; he was then sent on a European tour from 1607 to 1609, apparently without having consummated the marriage. Meanwhile, his wife began an affair with Robert Carr, Viscount Rochester,
a favorite of King James I. After Essex's return, Frances sought an annulment on the grounds of impotence. Essex claimed that he was only impotent with her and had been perfectly capable with other women, adding that she "reviled him, and miscalled him, terming him a cow and coward, and beast."The divorce was a public spectacle and it made Essex a laughing-stock at court. The annulment was granted on 25 September 1613, and Frances Howard married her lover, who had been made 1st Earl of Somerset, on 26 December 1613. Three years later the Somersets were tried by a panel of Lords for their part in the murder of Sir Thomas Overbury;
Essex sat as a juror in the trial of his former wife and pressed the King to send her to the scaffold. Both were condemned to death, but the sentence was never carried out.
On 11 March 1630 Essex married Elizabeth Pawlett, daughter of Sir William Pawlett, of Edington, Wiltshire, past High Sheriff of Wiltshire and cousin of

William Paulet, 4th Marquess of Winchester

.
Elizabeth was introduced at Court during the Great Parliament of 1628/29 just after her father died, as the eldest
unmarried daughter needing to marry to improve her family prospects. Back from travels in military service on the Continent (
see below) Robert was also pressured to marry again (and quickly) to show the Court the humiliation from his first marriage could be
overcome. This marriage was also a disaster and failed, though not as publicly.
They separated in 1631, the Countess remaining at Essex House in London,
Robert "playing soldiers" at his estates. There was a child later produced from the union, however dying very young. However, the father was largely suspected by the Court to be her alleged lover,
Sir Thomas Uvedale (from the alleged prompting of William Seymour, 1st Marquess of Hertford., Robert's brother-in-law who leased part of Essex House in London, and expected to inherit if Robert had no issue). Elizabeth, through her funeral oration
(years later) by her second husband Sir Thomas Higgon vigorously denied this. In 1645, Essex was given

Somerhill House

near
Tonbridge

,

Kent

, which had been sequestrated by Parliament from

Ulick Burke
following the

Battle of Naseby

.

It has
recently been suggested that Essex suffered from
male hormone deficiency
, leading to failure to consummate his first marriage and produce an heir in his second.
H
owever, portraits of Essex show him with a prolific growth of facial hair. He also had a tendency to aggression leading to quarrels and threats of duels. Both these characteristics are counter-indicative of
hypogonadism
.
[3] November Rupert with a large cavalry detachment stormed Brentford and then proceeded to sack the town. This action encouraged those Londoners who feared for their property to side with the Parliamentarians.On 13 November Essex's army, with the London trainbands and other London citizenry, assembled as an army of about 24,000 on Chelsea Field.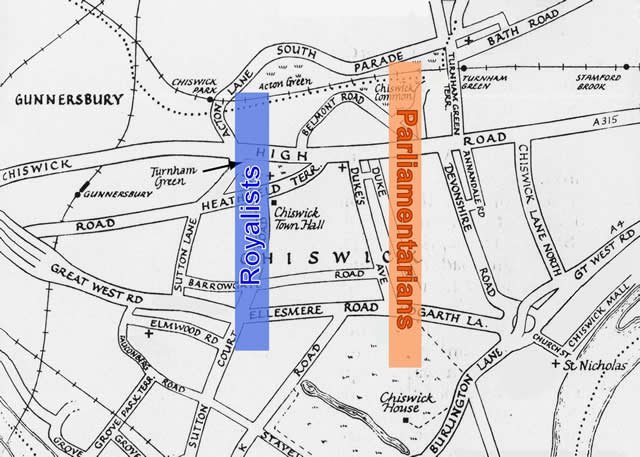 They advanced to Turnham Green
in the vicinity of the main body of the Royalist army.
The Royalist army of 7,000-12,000 was short of ammunition and probably too small to attack the 24,000 strong Parliamentarian army.
This range 20 comprehensively covers the English Civil War. In addition there are head packs for those wishing to do conversions. Each pack of foot has three poses in it (8 figures). Cavalry packs contain two poses of horse and two poses of rider(4 complete cavalry). Pikeman can be ordered as open handed if you would rather add your own wire pikes.

Also the King was advised that to engage such an oddly assorted army containing what was obviously a large contingent of armed civilians (namely the Trained Bands under Philip
Skippon), would not endear him to London, and it was too early in the war for the Royalists to contemplate taking London without the support of a sizable part of London's population.
With the end of campaigning season close at hand, Charles decided not to press the issue and withdrew. So after a slight cannonade, the Parliamentarians secured a victory without engaging in the battle, which was fortunate for them, as many of their number had never seen a battle before and were not used to army discipline formations and deployments. John Hampden, with something of the fire and energy of his cousin, Oliver Cromwell, urged the Earl of Essex to turn both flanks of the Royal army via Acton and Kingston;
experienced professional soldiers, however, urged Essex not to trust the London men to hold their ground, while the rest manoeuvred. Hampden's advice was undoubtedly premature. A Battle of Worcester (1651) was not within the power of the Parliamentarians of 1642. In Napoleon's words: "one only manoeuvres around a fixed point",[and the city levies at that time were certainly not, vis-à-vis Rupert's cavalry, a fixed point.
Charles (once more contrary to Rupert's advice) retreated back up the Thames Valley towards Oxford (losing the possible chance for a flanking movement through loyal Kent), where Charles set up his headquarters for the rest of the war. Never again during the Civil War would the Royalists come as close to capturing London and without London they could not win the war



Army 3

(B2003)

NEW MODEL ARMY. £94 Add to Basket

Infantry Units (Conscript). 1. 4 x Muskets (16 pts), 2 x Pikes (10 pts).

Infantry Units (Trained).
2. 4 x Muskets (36 pts), 2 x Pikes (22 pts).
3. 4 x Muskets (36 pts), 2 x Pikes (22 pts).
4. 4 x Muskets (36 pts), 2 x Pikes (22 pts).
5. 4 x Muskets (36 pts), 2 x Pikes (22 pts).
Artillery.
10. 1 x Medium Gun (25 pts).
11.1 x Medium Gun (25 pts).
Cavalry Units (Trained).
6. 5 x Pistoler (45 pts). 7. 5 x Pistoler (45 pts)
8. 4 x Charger (52 pts). 9. 4 x Charger (52 pts).

Army Total 502 pts.

Packs: -2 (x2), 5, 6(x2), 7 (x2), 8(x4), 9 (x2), 10, 12, 14, 16 (x2), 17,18, 20, 22(x7), 23(x5), 26, 27, 29,19,28 = 36 packs.

1 x pack 30 X 30 Bases